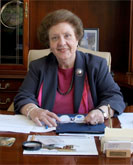 M. Louise Fitzpatrick, EdD, RN, FAAN
Louise Fitzpatrick is the Connelly Endowed Dean and Professor of the College of Nursing, Villanova University. She has served as a dean for 36 years and formerly was faculty at Columbia University where she taught public health nursing to masters students and prepared doctoral students in curriculum development and historical research.
Dr. Fitzpatrick has made numerous presentations and published many articles and co-authored and edited books on nursing education, the evolution and development of nursing education, and public health nursing. She is an alumna of the Johns Hopkins School of Nursing, the Catholic University of America and Columbia University and holds a certificate in higher education management from Harvard. She is a fellow of the American Academy of Nursing; has served on numerous professional associations and health agency boards as well as accreditation commissions. She has received awards from all her alma maters, the Pennsylvania Nurses Association's Global citizen Award, and many community service organizations.
In 2004 Dr. Fitzpatrick was the recipient of the National League for Nursing's Award for Outstanding Leadership in Nursing Education. She has also been the recipient of a World Health Organization Fellowship for Study in Scandinavia and the United Kingdom and a Malone Fellowship from the Committee on U.S. Arab Relations.
Serving as a consultant to many universities in the United States and throughout the world, Dr. Fitzpatrick has a special interest in the Middle East, especially Jordan, the West Bank, the Sultanate of Oman and Lebanon. She was appointed a Middle States evaluator for the American University of Beirut, (AUB) twice, and has participated in jointly sponsored conferences with (AUB), where she is an inaugural member of the External Advisory Committee to the Rafic Hariri School of Nursing.
Dr. Fitzpatrick's association with Nurses Educational Funds, Inc. is longstanding, dating back to when she was awarded NEF's Isabel Hampton Robb Scholarship while studying for her doctoral degree in nursing education at Columbia University Teacher's College.