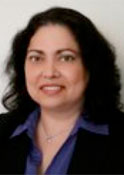 Aida L. Egues
Dr. Aida L. Egues, DNP, RN, APHN-BC, PHCNS-B CNE, a City University of New York, New York City College of Technology Associate Professor of Nursing, is a professional registered nurse licensed in New Jersey, New York, and Pennsylvania. She has a doctorate in nursing practice (DNP), specializing in educational leadership from Case Western Reserve University, Frances Payne Bolton School of Nursing. Upon graduations from the graduate program she received the Director's Award for the Outstanding DNP Graduate. Dr. Egues is a certified nurse educator, a board-certified public health clinical nurse specialist, and a board-certified advanced public health nurse.
Throughout Dr. Egues' professional career she has worked to promote the adoption and support of technology. Her professional work has also focused on awareness and prevention of bullying; promotion of community health initiatives; raising health care professionals awareness of horizontal/lateral violence in nursing; understanding the linkage of the study of the humanities within the health professions; actively participating in mentoring and mentorship; performing research with Hispanic nurses; service learning and other high-impact pedagogy in nursing education.
Dr. Egues has been invited to speak as the keynote presenter at numerous international, national, and regional workshops and conferences. Her extensive academic and community service efforts focused on mentoring led to her being recognized as the New York/New Jersey RN Excellence Award Finalist in the mentoring category.
She has been appointed to the Mentoring Academy Advisory Board of the National Association of Hispanic Nurses (NAHN) that oversees the personal and professional development of Hispanic nurses nationwide. Currently Dr. Egues oversees mentoring in the New York City Chapter, as well as serves at the national level. She is a member of the Board of Directors of The Nurses Educational Funds, Inc. She serves on the Foundation of the National Student Nurses Association (NSNA); the Academic Nurse Educator Institute for Scholarship; and the NYC Mayor's Center for Economic Opportunity/New York City Health & Hospitals Corporation Nurse Mentoring Program. Dr. Egues is a Fellow in the New York Academy of Medicine, in great part due to the extensive work and positive outcomes of her mentoring of minority and Hispanic nurses.
Dr. Egues has received many personal and professional testaments from colleagues and students who have benefitted from her mentorship. Most importantly she along with her colleagues and students have produced enduring materials on mentoring. She is a peer-reviewed published author with multiple national, regional, and local awards and federally funded NIH and NEH grants.