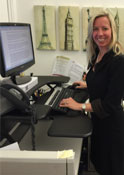 Allison Adams is the Managing Director and Group Publisher of the Institutional Investor Journals, including the prestigious Journal of Portfolio Management.  The Institutional Investor Journals are written, edited and read by the premier global innovators of the financial community including renowned academics, portfolio managers, hedge fund managers and institutional investors.  The IIJournals.com research platform contains over 40 years of fully searchable cutting-edge research articles, accessed by researchers all over the world looking for the latest innovations in financial markets.  Ms. Adams also supervises new product development for the division and oversees every aspect of the business.
Ms. Adams joined Institutional Investor in 1999 as the Advertising Director.  Before joining Institutional Investor, Ms. Adams was a Vice President at Bear Stearns on the High Yield Trading Desk.  She started her career at Credit Agricole (f/k/a Credit Lyonnais).  She studied Finance and French at the University of Rhode Island where she received a BS degree from the School of Business and a BA degree in French.
Ms. Adams has served on the Board of the Nurses Educational Funds since 2006.  She is a member of NEF's Nominating Committee and Co-Chair of the Website & Social Media Committee.   Ms. Adams lives in New York City with her family.