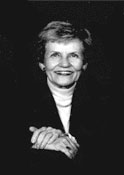 Margaret L. McClure, EdD, RN, FAAN
Margaret L. McClure is an adjunct professor at New York University. For more than twenty years she was the chief nursing officer at NYU Medical Center, where she also served as the chief operating officer and hospital administrator. She is currently involved in several national projects, most notably an effort designed to create a seamless educational path for new nurses entering the profession, funded by the Robert Wood Johnson Foundation and the Jonas Center for Nursing Excellence.
She is a prolific writer and lecturer and is internationally recognized as a nursing leader. Her best-known contribution to the literature is the study entitled, Magnet Hospitals: Attraction and Retention of Professional Nurses, which she co-authored and published under the auspices of the American Academy of Nursing. This research served as the basis for today's Magnet Hospital program.
A graduate of the Lankenau Hospital School of Nursing in Philadelphia, Dr. McClure received her baccalaureate degree from Moravian College and her master's and doctoral degrees from Teachers College, Columbia University.
She is the past president of two national organizations: the American Academy of Nursing and the American Organization of Nurse Executives. She is the recipient of numerous awards, including an honorary doctor of humane letters from Seton Hall University and an honorary doctor of laws from Moravian College. In 2007 she was named a Living Legend by the American Academy of Nursing. She retired from the United States Army Reserves with the rank of Colonel.
She has served on the NEF board for more than two decades and is currently a member of the bylaws committee and the nominating committee.