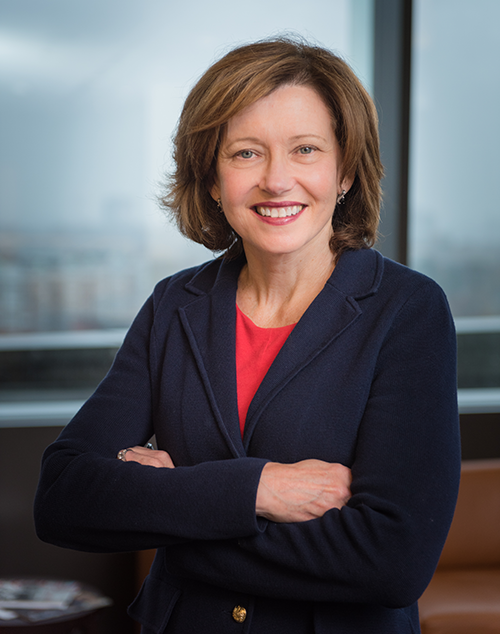 Patricia Reid Ponte, DNSc, RN, FAAN, NEA-BC
Dr. Reid Ponte is a Clinical Associate Professor at Boston College Connell School of Nursing where she is helping design and implement the Advance Practice Registered Nurse (APRN) Doctor of Nursing Practice (DNP) Program and teaching graduate level courses in the Woods College Masters of Health Administration Program. She also holds a part time appointment as a Professor of Practice at Simmons College School of Nursing and Health Sciences.
She completed her tenure at Dana-Farber Cancer Institute on January 1. 2018 where she served as the Chief Nursing Officer and Senior Vice President of Patient Care Services at the Dana-Farber Cancer Institute and the Executive Director of Oncology Nursing and Clinical Services at Brigham and Women's Hospital in Boston, Massachusetts since 2000. DFCI was first designated ANCC Magnet in 2004. Dr. Reid Ponte is the President of the American Nurses Credentialing Center (ANCC), an appointment she has held since 2016.
She held nursing practice and leadership roles at Brigham and Women's Hospital, Massachusetts General Hospital, and Tufts Medical Center all in Boston, MA. During these appointments Dr. Reid Ponte advanced Primary Nursing, nurse recognition, shared governance, positive practice environments, cultures of patient safety, professional development, patient and family centered care, Integrative nursing and Interdisciplinary leadership and practice.
Dr. Reid Ponte has been a member of the board of the American Nurses Credentialing Center (ANCC) Board of Directors since 2015, is a past chair of the ANCC Commission on Magnet, and a past president of the Massachusetts Organization of Nurse Executives. She is an active member in the American Academy of Nursing, where she currently serves as a member of the Finance Committee. Dr. Reid Ponte is a board member of Raising a Reader of Massachusetts.
Dr. Reid Ponte taught at the University of Massachusetts, Boston (UMB), for ten years where she was an Associate Professor at the College of Nursing and Health Sciences. She is an adjunct faculty member at her alma mater, the University of Massachusetts Amherst, School of Nursing, an active alumni member and a recipient of the University's Distinguished Alumni Award in 2005.
She was a co-principal investigator for the National Cancer Institute-funded Dana- Farber/Harvard Cancer Center-UMB U54 and U56 project grants, which currently funds a post-doctoral nursing fellowship program in oncology and health disparities and had funded the establishment of an accelerated BSN to PhD Program both of which she designed with the Dean of the UMB College of Nursing and a team of nurse scientists and faculty.
Dr. Reid Ponte has conducted research and disseminated findings in patient safety and patient- and family-centered care and has published extensive non-empirical work in nursing leadership, interdisciplinary collaboration, organizational credentialing and health care practice environments.
Dr. Reid Ponte received both her Doctor of Nursing Science and Masters in Nursing Science degrees from Boston University. She received her Bachelor of Science in Nursing from the University of Massachusetts, Amherst. Dr. Reid Ponte was a 2001-2004 Robert Wood Johnson Foundation Nurse Executive Fellow. She is a Fellow in the American Academy of Nursing and completed the Health Care Quality Advanced Training Program (ATP) at Intermountain Health Care.