IN MEMORIAM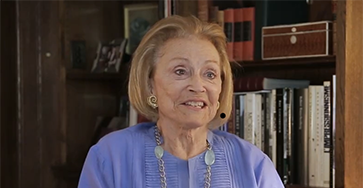 Barbara Lynn Jonas, MSW, FAAN (h), FAANP (h), died on October 23, 2018. A long time activist in the arts, mental health, public policy and a respected psychiatric social worker, Barbara Jonas and her husband Donald Jonas, a leading retail executive, brought together their professional expertise and personal passions to address a growing crisis in our nation's healthcare system — the shortage of professional nurses — and established Jonas Nursing and Veterans Healthcare (JNVH) in 2006, a first-of-its-kind philanthropic program dedicated to advancing the nursing profession and helping returning veterans.
Today, their legacy continues. In 2018, Jonas Philanthropies was launched to encompass the Jonas's and their extended family's philanthropic interests: Nursing and Veterans Healthcare, Low Vision & Blindness, and Children's Environmental Health. Nursing and Veterans Healthcare, and support for the Jonas Scholars, continues as the signature investment of Jonas Philanthropies as it identifies and invests in high-potential doctoral nursing Scholars who will address our nation's most pressing healthcare needs.
Barbara has served as the Vice Chairman of the Community Services Board of the New York City Department of Mental Health, Mental Retardation and Alcoholism Services; a member of the Institutional Review Board of New York University Medical Center; a member of the Columbia Presbyterian Health Sciences Advisory Council; and a member of the Board of the Alvin Ailey American Dance Theater Foundation. In 1992, she established the Barbara Jonas Centers for the Study and Treatment of Children at Risk at the Departments of Psychiatry at New York University and Columbia Presbyterian Medical Centers. She has served as a Trustee at the Guggenheim Museum and many agencies for over 50 years.
Barbara was born in New York City in 1933 and has resided there, as well as in Greenwich, CT and La Romana, Dominican Republic. She graduated from the High School of Performing Arts and Sarah Lawrence College, earned her MSW from Yeshiva University, and was a practicing psychotherapist. She was awarded an honorary Doctor of Humane Letters from Frontier Nursing University.
Barbara Jonas is mourned by the Board of Nurses Educational Funds and the entire Nursing community. An NEF-Barbara Jonas Scholarship will be given to an exceptional graduate nursing student to honor the memory of Barbara Jonas this coming Spring.
---
M. Louise Fitzpatrick, EdD, RN, FAAN, who passed away peacefully at her home on September 1, 2017.
Dr. Fitzpatrick's association with Nurses Educational Funds, Inc. is longstanding, dating back to 1970 when she was awarded NEF's Isabel Hampton Robb Scholarship while studying for her doctoral degree in nursing education at Columbia University Teacher's College.
Louise served as the Dean of the College of Nursing at Villanova since 1978 and formerly was faculty at Columbia University where she taught public health nursing to masters students and prepared doctoral students in curriculum development and historical research.
She was an alumna of the Johns Hopkins School of Nursing, the Catholic University of America and Columbia University and holds a certificate in higher education management from Harvard. She was a fellow of the American Academy of Nursing; and has served on numerous professional associations and health agency boards as well as accreditation commissions. She received awards from all her alma maters, the Pennsylvania Nurses Association's Global Citizen Award, and many community service organizations.
In 2004 Dr. Fitzpatrick was the recipient of the National League for Nursing's Award for Outstanding Leadership in Nursing Education. She has also been the recipient of a World Health Organization Fellowship for Study in Scandinavia and the United Kingdom and a Malone Fellowship from the Committee on U.S. Arab Relations.
To paraphrase the Reverend Peter M. Donohue, OSA, President of Villanova in his tribute to Dr. Fitzpatrick, " . . . she epitomized the . . . nursing profession, she embodied the spirit of what it means to be a nurse—competent and compassionate, fully committed to bettering the lives of patients and the community at large. She loved nursing, the College, and her students. . . "
Under her leadership, the College of Nursing developed into a premier nursing program, recognized repeatedly by the National League for Nursing (NLN) as a Center of Excellence in Nursing Education. She expanded the College's academic programs, including initiating the master's and doctoral programs, as well as an accelerated BSN program for second-degree students. Dr. Fitzpatrick developed distance learning strategies and clinical simulation initiatives with a focus on scholarship and research. During her tenure, three centers were established: the Center for Nursing Research, the Center for Global and Public Health, and the MacDonald Center for Obesity Prevention and Education.
---
Dr. Diane McGivern, PhD, RN, FAAN. of Staten Island, NY, died Monday, June 30, 2014, in Staten Island University Hospital, Ocean Breeze, after a lengthy battle with spinal cancer. She was 75. Dr. McGivern will be remembered for her compassion and tireless work in nursing, nursing education and health policy, as well as her efforts on behalf of general education in New York State, as a 15 year member of the Board of Regents of New York State.
---
Dr. Ursula Springer, PhD, FAAN and NEF Board Member Emeritus, passed away on Sunday, March 30, 2014. Dr. Springer grew up in Berlin, Germany. In college she majored in the "new philology", a school within philology and ethnohistory that seeks to describe the history of an era using the written sources of a culture to understand their perspective of their own history.
---
Barbara L. Tate – longstanding member of the NEF Board. To designate a specific donation for the Barbara L. Tate Scholarship Fund, click on "Donate" and note that the funds are for the Barbara L. Tate Scholarship.
---
J. Margaret Ada Mutch – an endowed scholarship fund was established to honor Miss Mutch by the Columbia University-Presbyterian Hospital School of Nursing Alumni Association, Inc. To designate a specific donation for the J. Margaret Ada Mutch Scholoarship, click on "Donate" and note that the funds are for the CUPHSONAA-J. Margaret Ada Mutch Scholarship.
---
Hattie Bessent, EdD, MSN, RN, FAAN and Nurses Educational Funds Board Member, died on October 31, 2015. Dr. Bessent's work focused on leadership development with a particular emphasis on the preparation of minority nurses as researchers and faculty members. From 1977 through 1991, she served as deputy executive director of the American Nurses Association's Ethnic and Racial Minority Fellowship Programs where she assisted more than 225 nurses from Asian, Black, Native American, and Hispanic backgrounds to receive doctoral training in the behavioral sciences and in psychiatric nursing programs.
Dr. Bessent served on commissions for mental health at the White House under every president from the Eisenhower Administration to President George H. W Bush. Hawaiian Senator Inouye, at the 102nd Congress Proceedings and Debates Session, paid tribute to Dr. Bessent in the Congressional Record for her work with minorities and for placing minority interns on Capital Hill.
She successfully obtained millions of dollars from the National Institute of Mental Health and the W.K. Kellogg Foundation for training purposes. Not only did these monies encourage collaboration between historically black colleges and majority nursing schools, but she designed Project Leadership Advancement and Development (Project LEAD) to strengthen the leadership capacity of minority nurses who had already assumed positions as executives in schools of nursing.
Dr. Bessent was a passionate trailblazer for advancing the voice, visibility, and impact of minority colleagues and students in the fields of mental health and substance abuse nursing, and her efforts have enriched and diversified the profession.