Nurses Educational Funds, Inc. Honors Donald and the late, Barbara Jonas
&
The Recipients of the 2018-2019 NEF Graduate Nursing Scholarships
More than 75 guests gathered to celebrate Nurses Educational Funds, Inc., its honorees and scholarship recipients on November 7, 2018, at the Griffis Faculty Club in New York City. The setting as always was lovely and the harpist, Sarah Loveland Gill, was wonderful! Our thanks once again go to Rosanne Raso and her excellent Executive Assistant, Uvanda Reynolds, who facilitated all of the arrangements at the Griffis Faculty Club. Our appreciation also goes to Judith Ochola and Suzette Joseph, undergraduate nursing students at Hunter-Bellevue School of Nursing, who for the third year assisted NEF in welcoming guests at the registration desk.
The evening began with drinks and hors d'oeuvres while attendees enjoyed the opportunity to reconnect with friends and colleagues. All Gala participants were enthusiastic in their support for a cause about which we are all passionate - graduate nursing education.
The formal program began with Board President, Joan Marren welcoming guests and thanking sponsors for their support of NEF's mission. Representatives present from sponsoring organizations were introduced, as were the four members of the staff of the Jonas Philanthropies present, Wanda Montalvo, PhD, RN, Executive Director; Grants and Programs Manager, Althea Hicks; Manager of Development and Partnerships, Mary Fiore and Executive Assistant, Maggie Gelwix. Special guests, Norman and Alicia Volk, 2017 NEF Honorees were also acknowledged.
Margaret McClure, NEF Board Member Emeritus, and long standing member of the Jonas Philanthropies Advisory Committee then spoke about the Gala honorees, Donald and the late Barbara Jonas, who recently passed away. Margaret highlighted the work of the Jonas Philanthropies and their many years of active support for the nursing profession as well as their commitment to Veterans' Health Care. Dr. McClure noted that the impact and reach of the Jonas Philanthropies has been nation wide as Jonas Nursing Scholars have hailed from every state across the United States. Dr. McClure expressed deep sorrow on her own and on behalf of NEF at the passing of Barbara Jonas on October 23, 2018. Her vision and commitment will be greatly missed.
Joan Arnold, NEF Treasurer then introduced Nancy Roecklein, two time NEF Scholar and founder of the Circle of Scholars and Jennifer Withall, Circle of Scholars Ambassador. Jennifer spoke about the significance of the Circle of Scholars as a platform for all NEF scholars to communicate with each other and share their achievements with the public through updates on the NEF website, Linked-In and Facebook. It was quite fitting that Nancy Roecklein as an NEF Scholar role model introduce the 2018-2019 NEF Scholarship recipients who were in attendance. Nine of this year's 26 NEF Scholars and their family members attended the Gala reception. Their presence and vitality was truly welcomed and celebrated. Nancy shared information about each of the recipients and presented them to the Gala attendees. They included: Camille Amada, Lienhard Schol of Nursing, Pace University, Jennifer Dillon, Rutger's University School of Nursing, Athena Ford, Johns Hopkins University School of Nursing, Annie George, Adelphi University College of Nursing and Public Health, Kattiria Gonzales, Binghampton University Decker School of Nursing, Tanya Lott, University of South Carolina College of Nursing, Colleen McGauley, Boston College School of Nursing, Megan Moyer, Villanova University, M. Louise Fitzpatrick College of Nursing, and Manka Nkimbeng, Johns Hopkins School of Nursing.
We offer our congratulations and best wishes to these and all the 2018-2019 scholarship winners! The biographies of all the scholarship winners can be found on our web site, www.n-e-f.org, under "Scholars". We hope that the 2018-2019 NEF Scholars will continue to engage with NEF as their education continues.
After the NEF Scholars were introduced, Joan Marren introduced Olive Glasgow, from New York City, a member of Freemen's Hospital Nursing Alumni Clubs, Inc. which annually support the Estelle Massey Osborne NEF Scholarship and thanked her for attending.
Finally, we extend our thanks to the generous sponsors of our 2018 Gala fundraising event that are presented on the homepage of our website to the right of this article. This year NEF raised more than $31,000 in sponsorships, one of our best ever results! We are most grateful to our very generous patrons and hope that they will continue to support the mission of NEF in this way.
It is so important for all nurses, especially those of us who have been beneficiaries of scholarship assistance, to give back to our profession through support of organizations such as NEF. Nurses Educational Funds,Inc. remains committed to advancing leadership within the nursing profession through fundraising for scholarships to assist nurses pursuing Master's and Doctoral degrees in nursing. We are proud of what we have been able to accomplish. We welcome your support in any and all ways - service, ideas, and donations. Please consider how you might help. Go to www.n-e-f.org
Joan M Marren, MA, MEd, RN
President, Nurse Educational Funds, Inc.


Nurses Educational Funds, Inc.
Honors Madeline A. Naegle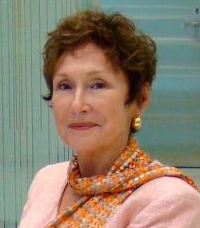 Nurses Educational Funds, Inc. has initiated a campaign to raise money for a mental health nursing scholarship honoring Madeline A. Naegle, PhD, CNS-PMH, RN, BC, FAAN, national and international nursing leader in mental health/substance abuse education, research, and practice.
Dr. Madeline Naegle is a psychotherapist in private practice in New York City. She is a recipient of two Fulbright Awards, and directs the WHO Collaborating Center in Geriatric Nursing Education at Rory Meyers College of Nursing, New York University. She also serves as a global mental health consultant on substance abuse and aging issues. Dr. Naegle's teaching career began in 1972 and includes the establishment of the psychiatric-mental health nurse practitioner program and substance abuse specialty sequence at NYU Meyers. She is the founding editor of the Journal of Addictions Nursing.
Currently there are very few scholarships specifically for graduate mental health nursing and NEF plans to raise enough funds to eventually establish a $50,000 permanent Madeline A. Naegle Scholarship.  From that permanent fund, an annual scholarship can be awarded to graduate nursing students specializing in mental health nursing.
Nurses Educational Funds, Inc. is extremely proud to honor Dr. Naegle's life work by establishing a permanent scholarship in her name.
To contribute to the Madeline A. Naegle Scholarship Fund you can click on "Donate" above or you can send contribution checks to:
Nurses Educational Funds, Inc.
137 Montague Street, Ste. 144
Brooklyn, NY 11201
For more information please contact:
Jerelyn Weiss, NEF Executive Director
(917) 524-8051
This email address is being protected from spambots. You need JavaScript enabled to view it.


Sponsors of Nurses Educational Funds, Inc.
November 1, 2017 Gala Reception
RUBY
NYU Rory Meyers College of Nursing

TOPAZ
Johns Hopkins University School of Nursing
Maimonides Medical Center
Wilhelmina Manzano, RN, SVP, CNE/CQO,
New York-Presbyterian Hospital
NYU Langone Health

PEARL
Cynthia Sculco, EdD, RN
Joan Conroy, Conroy Family Charitable Foundation
Joan M. Marren, MEd, MA, RN
Louise S. Hazeltine
Margaret L. McClure, EdD, RN, FAAN
Mathy Mezey, EdD, RN, FAAN
New York-Presbyterian / Weill Cornell, Department of Nursing
Norman H. Volk
NYU Langone Orthopedic Hospital
Pace University College of Health Professions, Lienhard School of Nursing
Susan Bowar-Ferres, PhD, RN, NEA-BC
The University of Rhode Island, College of Nursing
NEF Board Secretary is Luthern Medical Center's New Senior Vice President and Chief Integration Officer.
Former Head of Nursing Returns to Lutheran HealthCare
February 2, 2015, Brooklyn Daily Eagle
Lutheran HealthCare has reached back into its past for help in shaping its future. The entity that owns Lutheran Medical Center in Sunset Park and a collection of smaller family health centers throughout Brooklyn has hired back former Chief Nursing Officer Rosanne Raso R.N. to serve in the newly created position of senior vice president and chief integration officer.


News + Updates
June 2006. The Columbia University-Presbyterian Hospital School of Nursing Alumni Association, Inc. honors the legacy of Miss Ada Mutch by establishing the CUPHSONAA, Inc. Ada Mutch Fund.
October 2004. The Miriam M. Powell Scholarship Fund is created by Mimi and Lee Powell.