Lauri Welch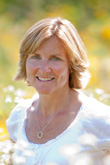 Lauri Welch is a nurse practitioner concerned with the cost of medications and the ability of patients to pay for them, particularly in a period of economic downturn.
She is a doctoral candidate at the University of Massachusetts Lowell, where she also received her master's degree in family and community health nursing.
Her major interest is in health promotion. Her research will examine medication access and adherence and, in particular, nurse practitioners' prescribing practices in relation to cost: do they know the costs of drugs and do they believe they should raise the issue of cost when prescribing. Eventually she hopes to extend this research to other prescribers.