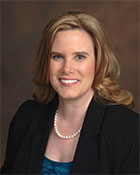 Jennifer Withall
Jennifer Withall is the recipient of the 2017 American Journal of Nursing Scholarship. She is currently a PhD Candidate at the Barbara H. Hagan School of Nursing at Molloy College in Rockville Centre, NY. Jennifer received her AAS in Nursing from Ulster Community College, NY, her BS in Organizational Leadership and Communication from Marist College, NY, and her MS in Nursing from SUNY New Paltz, NY. She has worked in acute care for her entire career, including medical-surgical and progressive care settings. For the last six years she has been an Assistant Nurse Manager in Orthopedics at NYU Langone Medical Center's Hospital for Joint Diseases. She holds specialty certifications in Orthopedics (ONC) and Progressive Care Nursing (PCCN). She is certified as an Adult Clinical Nurse Specialist in New York State. Jennifer has also been a nursing clinical instructor for Molloy College, where she worked with nursing students in their first in-hospital clinical rotation.
Jennifer is a Graduate Assistant (GA) to the Associate Dean of the PhD Program at Molloy College, Dr. Veronica Feeg, PhD, RN, FAAN. During her tenure as a GA she has completed a significant data analytics project with the Helen Keller National Research Center related to deaf-blind policy issues, co-authored an article on vaccinations and immunizations in nursing education for Dean's Notes, and authored an article on moral distress in nursing students which was published in Imprint. Recently, she and co-author, Dr. Kimberly Glassman, PhD, RN, NEA-BC, FAAN, Senior Vice President of Patient Care Services and Chief Nursing Officer at NYU Langone Medical Center, submitted a manuscript on leadership development.
The PhD program that Jennifer attends concentrates on health policy, leadership and research, all of which segue nicely with Jennifer's personal goal to be a nurse scientist. Her research interests include geriatrics, dignity in the elderly, leadership and the development of nurse leaders, succession planning, data science, and health policy. It is her hope that she can positively impact patient outcomes and heath policy through her future research endeavors.
Jennifer belongs to a number of professional nursing organizations including Sigma Theta Tau International (STTI), American Nurses Association (ANA), New York Organization of Nurse Executives and Leaders (NYONEL), Eastern Nursing Research Society (ENRS), and the American Association of Critical Care Nurses (AACN). She is a student member of the New York Academy of Medicine. Jennifer is also a 2016-2018 Jonas Nurse Leader Scholar.
Update
I am writing to share a bit of good news. On April 23rd, I successfully defended my dissertation, "Temporal Pain Pattern Sequencing in Older Adults After Joint Replacement Surgery." My defense was conducted via Zoom, and I had 25 attendees! My Chair, Dr. Vernonica Feeg, went out of her way to make sure that this day was special and celebratory.
It takes a village to "raise" a PhD. I am so thankful for the AJN award that I received from NEF and the support of everyone in the organization. It means so much to know that people are pulling for you, that they want you to succeed, and that they are genuinely happy for you when you do! I am so incredibly fortunate to have been the beneficiary of the dedication and commitment of this fantastic organization. I will always be grateful.