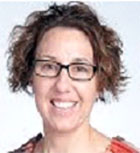 Molly Condit
Molly is the recipient of the Barbara L. Tate Scholarship. She earned her BSN from Bellin College of Nursing 1n 1999 and has been a nurse for 18 years. Molly began her nursing career as a trauma nurse at Parkland Memorial Hospital. She earned her MS in Biology with a concentration in Nurse Anesthesia from The University of Wisconsin La Crosse/Franciscan Skemp School of Anesthesia in 2003. Molly has been a practicing CRNA for nearly 14 years.
Molly currently works at The University of Wisconsin Oshkosh as the Assistant Director of the DNP CRNA Emphasis Program and as an instructor in the undergraduate and graduate nursing programs. She also maintains her CRNA practice one day per week in Green Bay, WI.
Molly is a DNP candidate at The University of Wisconsin Oshkosh, where her DNP Scholarly Project is focused on establishing an Advanced Practitioner Council with advanced practitioner representation within the Medical Executive Committee at Hospital Sisters Health System Eastern Wisconsin Division. Molly will complete her DNP in December, 2017. She is also a member of the American Association of Nurse Anesthetists (AANA), the Wisconsin Association of Nurse Anesthetists (WIANA), and Sigma Theta Tau. She is looking forward to teaching and mentoring the first cohort of DNP CRNA students at The University of Wisconsin Oshkosh beginning June, 2017.