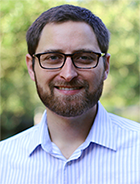 Michael Schultz
Michael Schultz, BSN, RN, is the recipient of the Henry B. Spencer Scholarship. He received his BA in philosophy at the University of California at San Diego prior to earning his BSN at the University of North Carolina at Chapel Hill (UNC). After working fulltime as an operating room nurse for a few years, Michael returned to UNC School of Nursing, where he is currently in the dissertation phase of the PhD program.
Michael decided to seek a PhD in nursing because he realized that health education and resources—though necessary—are not sufficient to manage or prevent chronic illness. He believes that mind-body interactions influence both health behaviors and biological states. In keeping with this belief, Michael's dissertation explores the relationships of mindfulness, interoception (the sense of the internal state of the body), and stress to type 1 diabetes self-management among late adolescents and young adults. The broad goal of this quasi-experimental study with biobehavioral and mixed methods is to better understand the relationships of mind, body, and behavior to design and implement novel interventions for this population, which struggles most with type 1 diabetes self-management. Michael is also conducting an ancillary study to a multisite clinical trial that examines the relationships between dispositional mindfulness, impulsivity, diabetes-specific self-efficacy, and type 1 diabetes self-management among adolescents.
After earning his PhD, Michael plans to complete a postdoctoral fellowship in neuroscience and seek a faculty position at a research-intensive nursing school. As a nurse scientist, he plans to continue the program of research initiated in his pre-doctoral program and lead interdisciplinary teams to address complex health issues and collaboratively advance the field of nursing research.
Michael is a member of the American Nurses Association (ANA), North Carolina Nurses Association (NCNA), and Sigma Theta Tau International Honor Society of Nursing (STTI). He is also an alumnus of the 2016-2018 Jonas Nurse Leader Scholar Program and the recipient of a Ruth L. Kirschstein National Research Service Award (NRSA) Individual Pre-doctoral Fellowship (1F31NR017108-01A1).