Unprecedented Times

Nursing care and nursing leadership has rarely been so tested as it is now with the COVID-19 Pandemic. The course of all of our lives is being fundamentally altered in these unprecedented times.

We are inspired by the dedicated and dangerous work of all health care professionals on the frontlines. Four of the Board of Directors of Nurses Educational Funds, Inc. are working in leadership capacities in four of the major healthcare institutions in the New York Metropolitan area dealing with the day-to-day challenges of the COVID-19 Pandemic.

The virtual office of NEF is open and this year's NEF Scholars have been notified. Once they have submitted the requirements necessary to receive a NEF Scholarship, this year's group of NEF Scholars will be publicly announced.

The core of NEF's mission is to promote nursing leadership by awarding scholarships to support nurses studying in graduate nursing programs throughout the United States and we intend to honor that mission now as we have for the past 108 years.
Thelma Schorr
A "Nursing Legend" Speaks About Nursing: Past, Present, and Future
Margaret L. McClure, EdD, RN, FAAN
To Be Honored by
Nurses Educational Funds, Inc.
at the Fall 2020 Reception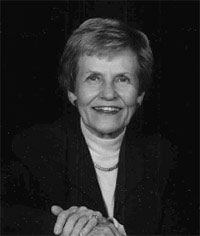 Dr. Margaret "Maggie" McClure will be honored by NEF on November 4, 2020, for her distinguished career and for the establishment of the Margaret L. McClure Scholarship Fund. The scholarship is dedicated to nurses in graduate nursing programs, specializing in education, administration, and /or health care policy.
Margaret L. McClure, EdD, RN, FAAN has served Nurses Educational Funds (NEF) as a board member, officer and now emeritus member upon her retirement. She concluded her full-time career at the New York University Medical Center, where, through the course of two decades, she served as the executive director of nursing and administrator for hospital and institutional affairs and as vice president for hospital operations. She also served in the United States Army Nurse Corps Reserve and retired with the rank of colonel.
Among her many accomplishments, Dr. McClure led the team that conducted the original research study responsible for the Magnet Hospital program under the auspices of the American Academy of Nursing. In 2007, the American Academy of Nursing bestowed on Dr. McClure its highest honor, naming her a Living Legend. Throughout her career as a national nursing leader, Dr. McClure has stressed the significance of preparing nurse leaders for academic, research, administration, and health care policy roles.
To donate to the Margaret L. McClure Scholarship:
Click here: https://www.n-e-f.org/donate.html and follow the prompts to make a donation. Please indicate in the "message" section that your donation is for the:
Margaret L. McClure Scholarship
A check may be made out to NEF and mailed to:
NEF, 137 Montague Street, Ste. 144, Brooklyn NY 11201
For more information contact:
Jerelyn Weiss, Executive Director,
Email: This email address is being protected from spambots. You need JavaScript enabled to view it. Phone: (917) 524-8051
NEF Celebrates 2020
"The Year of the Nurse"
The World Health Organization has designated 2020 as the International Year of the Nurse and the Midwife in honor of the 200th birth anniversary of Florence Nightingale. Nurses Educational Funds (NEF) has recognized this celebration by featuring extraordinary nurse leaders associated with NEF on our website January through April. For May, one of our NEF Scholars wrote a poem celebrating nurses and we would like to share that poem with you.
We are Nurses
By Francine Bono Neri

(NEF Scholar 2019-2020)
Year of 2020, Year of the Nurse, Year of celebration;
Dedicated, diligent, determined; we are nurses.
Florence Nightingale the founder, lady with the lamp, exemplar of the profession;
Quintessential, paradigmatic, influential; we are nurses.
Nurses today, leading the way, excelling in practice;
Professionals, catalysts, pillars; we are nurses.
Advancing roles, yielding innovations, improving outcomes;
Diversified, knowledgeable, dynamic; we are nurses.
COVID-19, global pandemic, unprecedented event;
Weary, weighted, worn; we are nurses.
Upheaval on units, dismay on floors, work on overload;
Heavy-hearted, grief-stricken, low-spirited; we are nurses.
At the front line, at the board table, behind the scenes;
Advocating, championing, teaching; we are nurses.
Working as a team, supporting a colleague, forging a new way;
Unbreakable, unbeaten, unmoved; we are nurses.
Although unknown, although undetermined, although unrevealed;
Pioneer, inspire, propel; we are nurses.
Celebrate the week, celebrate the year, celebrate the role;
Proud, accomplished, empowered; we are nurses.
We will prevail, we will triumph, we will overcome;
Serving all those in need because we are nurses.
NEF's sole mission is to raise money for scholarships in graduate nursing education, advanced clinical practice, research, and administration.
In this Year of the Nurse and the Midwife, we hope you will consider making a gift of any amount to NEF to support future nurse leaders.
A permanent named scholarship may be created through NEF to recognize or perpetuate the memory of a loved one (living or deceased), a nursing leader, a community leader, a special friend, a family member, or significant other.

Please make the support of nurse leaders your priority for 2020. Nurses can transform lives.

Click on the red DONATE icon above and follow the prompts to make a donation online.
A check may be made out to NEF and mailed to:
NEF, 137 Montague Street, Ste. 144, Brooklyn NY 11201
For more information contact Jerelyn Weiss, Executive Director, Email: This email address is being protected from spambots. You need JavaScript enabled to view it. Phone: (917) 524-8051