A Call to NEF's Circle of Scholars
Dear NEF Scholar,
Birthdays are a time for celebration and renewal. It's a great time to take stock and reflect about the past, while making a wish for an exciting year to come. People may have mixed emotions about another birthday, however, we cannot deny that there are many benefits to growing older! For example, age brings the wisdom that comes with life experience; it allows us to recognize what truly matters such as friends, family, and health; and you begin to embrace the realization that giving is better than receiving!
NEF has been supporting nurses and their education since 1912. The mission of NEF is simple, "To promote leadership through scholarship support for professional nurses seeking masters and doctoral degrees in nursing education, practice, service and research." As NEF Scholars, we have benefitted from the generosity of those who believe in us, and believe that supporting the advancement of the education of nurses will not only benefit that individual, but the health of the greater community as well.
You too can help ensure that NEF can continue its altruistic mission. Please consider making a donation through the following ways:
You can "donate" your birthday to NEF on Facebook
Accessing the "Network for Good", networkforgood.com

Clicking on "Donate" on NEF's website: www.n-e-f.org
and help support our future nurse scholars. Your contribution will help us to expand our Circle. It will give others the opportunities that we have been afforded, by allowing us to pay it forward. We are sure you will find that giving can be better than receiving!
Respectfully yours,
Jennifer Withall, MSN, RN, CNS
NEF Doctoral Scholar: 2017-2018
Nurses Educational Funds, Inc. Honors
Norman and Alicia Volk
and
The 2017-2018 NEF Scholarship Recipients at the 2017 NEF Gala
More than 55 guests gathered to celebrate Nurses Educational Funds, Inc., its honorees and scholarship recipients on November 1, 2017, at the Griffis Faculty Club in New York City. The setting as always was lovely and the harpist, Sarah Loveland Gill, wonderful! Our thanks once again go to Rosanne Raso and her excellent Executive Assistant, Uvanda Reynolds, who facilitated all of the arrangements at the Griffis Faculty Club. Our appreciation also goes to Judith Ochola and Suzette Joseph, undergraduate nursing students at Hunter - Bellevue School of Nursing, who for the second year assisted NEF in welcoming guests at the registration desk. The evening began with drinks and hors d'oeuvres while attendees enjoyed the opportunity to reconnect with friends and colleagues. All Gala participants were enthusiastic in their support for a cause about which we are all passionate - graduate nursing education.
The formal program began with NEF Secretary, Maggie McClure, sharing thoughts about our dear friend and colleague, the late M. Louise Fitzpatrick. Maggie requested a moment of silence in remembrance of Dr. Fitzpatrick's tremendous achievements as a national nursing education leader and her many contributions as a long-term member of the NEF Board of Directors. Board member Mathy Mezey then spoke about the Gala honorees, Norman and Alicia Volk. She highlighted the Volk's many years of active support for the nursing profession and in particular, their significant efforts in advancing health care for the elderly through nursing education and research. Mathy highlighted Norman Volk's Board leadership of the John A Hartford Foundation and her own work with Norman and the Hartford Foundation in the development of the Hartford Institute for Geriatric Nursing at NYU Rory Myers College of Nursing.
Norman Volk shared his views on the extraordinary importance of graduate nursing education. He emphasized how graduate nursing education promotes nursing leaders as patient advocates in acute care, community health, and academia. Most importantly he stressed the need for nurses to grow through advanced education as our health care innovators and champions for advancing better health care in America. Read more...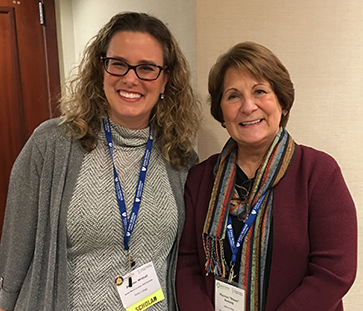 Jennifer Withall, the 2017-2018 recipient of the NEF American Journal of Nursing Scholarship attended the Jonas Nurse Leader Conference in Washington D.C. in October, 2017 where she met the editor of the AJN, Maureen Shawn Kennedy.
Nursing Scholarships for Graduate Education
Nurses Educational Funds, Inc. (NEF) is a not-for-profit organization which seeks and distributes funds to baccalaureate prepared registered nurses who are in need of nursing scholarship assistance for graduate study. NEF is administered by a Board of Directors comprised of prominent leaders in nursing, business, and other professions. Nurses comprise the majority of board members.

NEF has been in existence for over 100 years! It was in 1912 that the first two Isabel Hampton Robb scholarships were awarded to two nurses, Cecelia Evans and Lisle French. From then on NEF has continued to support nursing professionals motivated to seek graduate degrees. With the support of those who value the critical need for:
nursing educators
advanced nurse clinicians
nurse researchers
NEF, the largest, single, private, professionally endorsed source of funds for advanced study in nursing will continue with this work for the next 100 years!
Support a Graduate Nurse's Education With a Donation To Nurses Educational Funds, Inc
Nurses Educational Funds, Inc, encourages all those who have ever been grateful for the care, commitment, and dedication of a nurse, to donate today to the Nurses Educational Funds, Inc. an organization solely devoted to raising money to support graduate nursing education.