---
Ben Hickox, DNP, APRN, AGCNS-BC
Clinical Nurse Specialist | Primary Care | Mayo, Clinic Assistant Professor of Nursing | Mayo Clinic, College of Medicine and Science
NEF Scholar 2017-2018
---
As a Clinical Nurse Specialist in Primary Care at Mayo Clinic in Rochester, MN, I have been actively involved in planning and executing some of the front-line efforts regarding COVID-19.
The first project I was involved with was setting up a drive-through point-of-care anticoagulation testing site so that individuals who needed INR testing could have that done without entering the clinic buildings (see pictures below).
Note that this was a "clean" site, so no patients with symptoms were allowed through the tent…symptom screening occurred at the parking lot entrance and anyone with symptoms was directed to return home and call our COVID-19 triage line. Setting this site up involved a team approach including operations, facilities, nursing, laboratory services, and medicine. We are able to test over 80 patients per day. The anticoagulation nurses then perform telephone assessment, dosing, and scheduling. This drive through testing site continues to be in operation and 50-80 patients are tested there each day. The anticoagulation nurses are doing a phenomenal job!
The second project I am involved with is supporting the nursing process for video visits. Our Primary Care practice rapidly converted its face-to-face practice to video visits. Many of our nursing staff were sent home with the technology to perform the rooming for these video visits or perform RN-only video visits. This rapid conversion required substantial coordination, communication, and resource mobilization. I worked closely with our Center for Connected Care, Information Technology, and Primary Care Medical Leadership. The care team nurses have deftly assimilated the new flow and are active participants in further refining the process. It seems most patients are also very pleased with the process.
The next step is returning to some face-to-face visits for those that need them most. I am actively involved in assisting front-line nurses manage the messaging to patients regarding returning to the clinic as safely as possible, and developing guidelines for what nursing visits can remain virtual versus what will be performed in-clinic.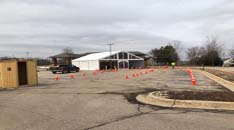 Drive-through point-of-care anticoagulation testing site